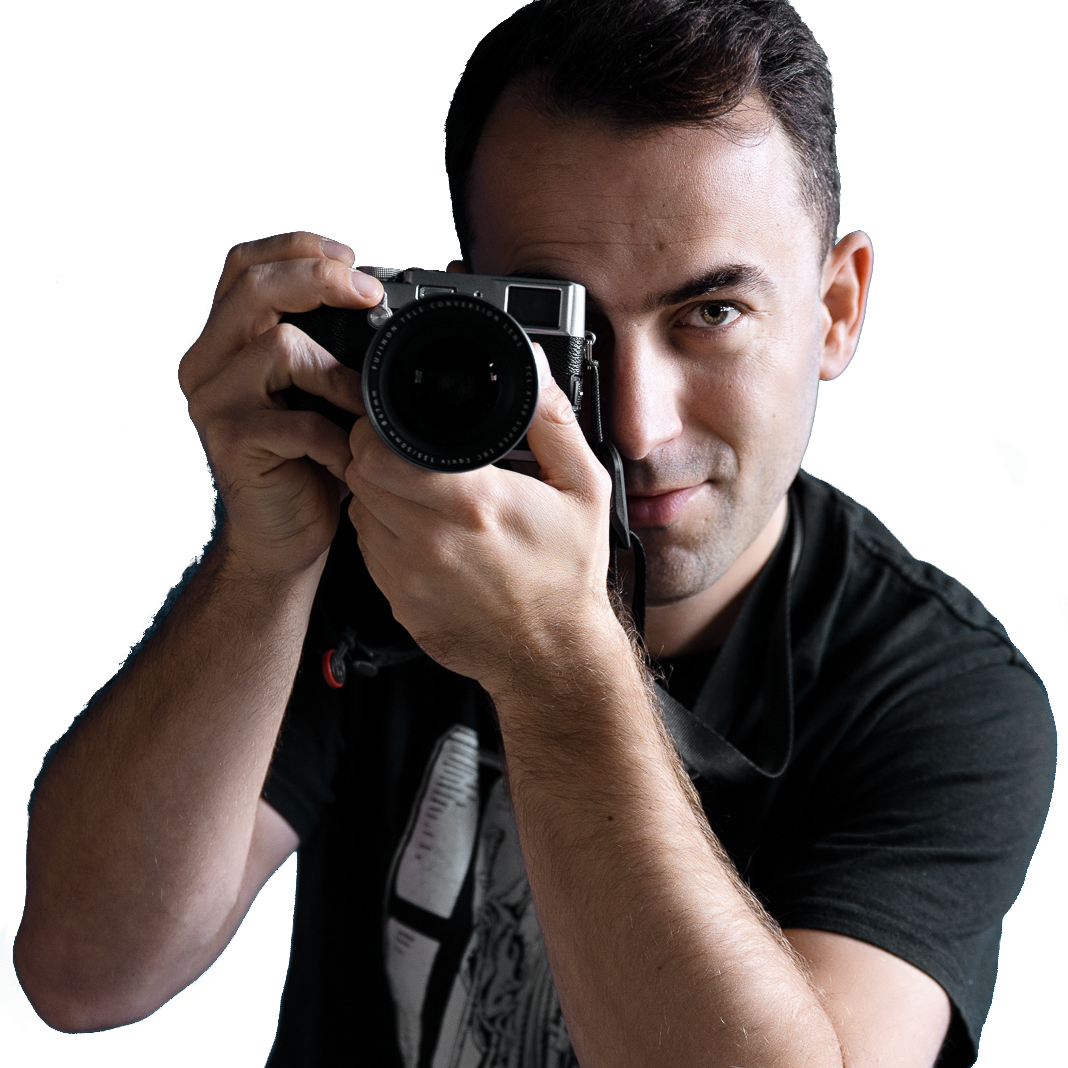 Nazywam się Piotr Wyrzykowski, urodziłem się i mieszkam w Olsztynie. W tym mieście skończyłem studia i z tym regionem jestem mocno związany. Warmia to kraina, która fascynuje mnie swoją różnorodnością przyrodniczą, krajobrazową, ale i trudną, wielonarodowościową historią. Emocje, które towarzyszą odkrywaniu jej zawiłego piękna staram się przedstawiać w medium, którego warsztat rozwijam od kilku lat – w fotografii.

Podróżując po Warmii tworzę obrazy, które zatrzymują kadr w tysięcznej części sekundy lub są efektem kilkuminutowych ekspozycji. Korzystam z wielu technik, doskonalę swój warsztat i wciąż się uczę, także ucząc innych. Uczestniczę i próbuję aktywizować lokalne środowisko fotograficzne – w stowarzyszeniach WMSF BLUR (do 2015 roku) i ARTWAMA organizuję plenery fotograficzne i konkursy. Byłem kuratorem kilku lokalnych wystaw, prowadzę też Fotograficzną Mapę Warmii – inicjatywę wielu fotografów z regionu. Prowadzę też młodzieżowe koło fotograficzne i jestem wolontariuszem Fundacji Uniwersytet Dzieci.

Od początku swojej przygody z fotografią tworzę cykl "Warmia, czarno-biały kwadrat", którego części pokazywane były na kilku wystawach. Poszukiwania detali i form architekturalnych, kształtów sklepień i fasad, przedstawiam również monochromatycznie. Fotografie z serii "Yin Yang" oraz "Panteon" zdobywały nagrody i wyróżnienia na międzynarodowych konkursach. Kolor jest natomiast bardzo ważną częścią fotografii krajobrazowych i przyrodniczych. Z pełną listą nagród i salonów fotograficznych, w których uczestniczyłem znajdziesz poniżej. Zapraszam do odwiedzenia portfolio.
My name is Piotr Wyrzykowski, I was born and currently live in Olsztyn, Poland. I graduated in this city, I feel strongly associated with the region. Warmia is a land which fascinates me with its natural, scenic diversity and with a difficult, multinational history. Emotions assisting me with discovering its complicated beauty come as a subject of a medium of several years growth of mine – photography.
Travelling around Warmia I create images, which grasp frame in miliseconds or are effect of long exposures. I use many techniques trying to improve my personal skill and learn a lot, also turoring others. I take part and try to activate local photographic environment – in WMSF BLUR (up to 2015) and ARTWAMA associations I am responsible for photo trips and competitions. I am a curator of several photographic exhinitions, I organize a Warmia Map of  Photography – an initiative of many local photographers. I lead a young photography club and volunteer in University of Kids Foundation.
Since the very beginning of my photographic adventure I create a "Warmia in Black and White Tiles" series, which parts were shown on several exhibitions. Research of architectural details and forms, shapes of copings and facades are also monochromatic. "Yin Yang" and "Pantheon" series were distinguished with awards and honorable mentions on international photography salons. Color on the other hand is a crucial part of my landcape and nature photography. The full list of awards and photo salons I took part in can be found below. I kindly invite to my portfolio.

Gold Medal of Photographic Society of America, "Omni Candid 12 Digital" Salon, Belgium, 2014 /
Złoty medal Photographic Society of America, Salon "Omni Candid 12 Digital", Belgia, 2014

Golden Lens Award - Architecture for "Ukiel" series, Otwarte Mistrzostwa Fotograficzne w Olsztynie, 2016 /
Złote szkło w kategorii Architektura w Otwartych Mistrzostwach Fotograficznych 2016 za cykl "Ukiel"

ND Awards 2016 Fine Art: Landscape Bronze Medal Award, "Cutoff" series /
Brązowy medal ND Awards 2016 w kategorii Fine Art: Landscape za cykl "Ścieżki"

Bronze Medal of Czech Federation of Art Photography (CFFU), "The Photo Journey" Salon, Czech Republic, 2016 / Brązowy Medal Czeskiej Federacji Sztuki Fotograficznej

Bronze Medal of International Federation of Photographic Art (FIAP), "Sunflower International Photographic Competition" Salon, Czech Republic, 2015 /
Brązowy medal Międzynarodowej Federacji Sztuki Fotograficznej, Salon "Sunflower International Photographic Competition", Czechy, 2015

Double FIAP Blue Ribbon, "Essence of Light" Salon, Hungary, 2016 /
Wyróżnienia honorowe Międzynarodowej Federacji Sztuki Fotograficznej, Salon "Essence of Light", Węgry, 2016

Triple OneShotPhotoCon Federation Honorable Mention, "Essence of Light" Salon, Hungary, 2016 /
Wyróżnienia honorowe Federacji OneShotPhotoCon, Salon "Essence of Light", Węgry, 2016

FIAP Blue Ribbon, "The Photo Journey" Salon, Czech Republic, 2016 /
Wyróżnienie honorowe Międzynarodowej Federacji Sztuki Fotograficznej, Salon "The Photo Journey", Czechy, 2016

Coup de Coeur Juge mention of 12th Festival International Photographique de La Gacilly, France, 2015 /
Wyróżnienie honorowe Jury 12-tego Międzynarodowego Festiwalu Fotograficznego de La Gacilly, Francja, 2015

Nature in Lens Golden Award - Polish Nature Photographers Association, Poznań, 2014 /
Pierwsza nagroda konkursu "Przyroda w obiektywie" Polskiego Związku Fotografów Przyrody

Golden Lens Award - Architecture for Pantheon series, Otwarte Mistrzostwa Fotograficzne W Olsztynie, 2014 /
Złote szkło w kategorii Architektura w Otwartych Mistrzostwach Fotograficznych 2014 za cykl Panteon

Honorable Mention of ND Awards 2014 - Architecture: Other for Yin Yang series, 2014 /
Wyróżnienie w konkursie ND Awards 2014 w kategorii Architektura za cykl Yin Yang

Honorable Mention, Burrard-Lucas Landscape Photo Competition, 2012 /
Wyróżnienie w konkursie Burrard-Lucas Landscape Photo Competition, 2012

FIAP Salons / Salony FIAP
Omni Candid 12 Digital, Belgium 2014 - 1 acceptance / 1 akceptacja
World Photography Awards, Switzerland 2014 - 1 acceptance / 1 akceptacja
7th International Digital Photo Award – Man and nature, Austria 2015 - 2 acceptances / 2 akceptacje
Equinox Two – International Salon of Fine Art Photography, India 2015 - 4 acceptances / 4 akceptacje
12th Festival International Photographique de La Gacilly – France 2015 – 5 acceptances / 5 akceptacji
XIV International Salon of Photography EUROPA 2014, Salo - Spain 2015 - 3 acceptances / 3 akceptacje
3rd PERLENSIS Digital Photo Salon - Hungary 2015 - 2 acceptances / 2 akceptacje
Sunflower International Photographic Competition - Czech Republic 2015 - 9 acceptances / 9 akceptacji
The Photo Journey - Czech Republic 2016 - 2 acceptances/2 akceptacje
16th Malmö International Exhibition of Photographic Art - Sweden 2016 - 3 acceptances/3 akceptacje
2nd Wojnicz International Salon of Photography - Poland 2016 - 1 acceptance/1 akceptacja
9th Just One Photo - Poland 2016 - 1 acceptance/1 akceptacja
Essence of Light - Hungary 2016 - 7 acceptances/7 akceptacji
International Sillian Organisation - Belgium 2016 - 5 acceptances/5 akceptacji
Landscapes of the World 2016/2017 - Poland 2016 - 2 acceptances/2 akceptacje

Nikon D610 & Fuji X100 w/TLC
Lowepro S&F system & PeakDesign Capture Camera Clip
Manfrotto 055XPROB tripod & 498RC2 MIDI ball head
Nikkor 70-200mm AF-S f/4G ED VR
Tamron SP
150-600mm f/5-6.3 Di VC USC


Tamron 24-70mm f/2.8 Di VC USC
Samyang 14mm f/2.8 ED AS IF UMC

Marumi DHG Super CPL polarizer
Hoya R72 Infrared
Hoya NDx400 HMC
Nikon SB-910
Voeloon 331EX
Metz LED-480
Pixel King Pro TTL flash trigger
Rogue Flashbender